It's the only such product that answers current hair needs. It fits the cosmetic for hair condition by doing both, acting inside the hair and on the hair's surface. Nanoil is your friend and ally on the way to strands that are full of health. Place your trust in the power of natural substances and the oil's light, golden formula.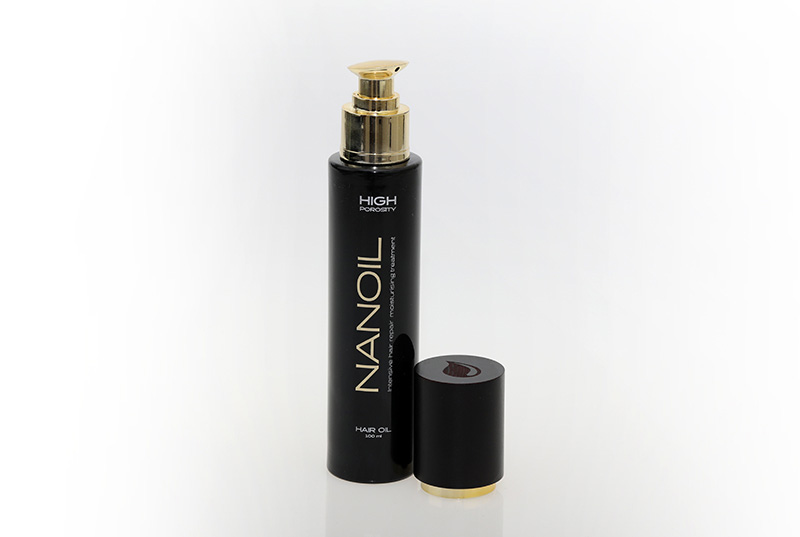 There is no other cosmetic that would influence hair in such a complex way. Nanoil hair oils are the new on the cosmetic market – they are tough out and innovative. Just a few days since launching the hair oil were enough for thousands of women to have their hearts stolen by the beauty product. This positive feedback isn't only due to this smart design the cosmetic features. Although the fact that this black, solid and elegant bottle really catches eyes, it's what can be found under the wooden cap and the golden applicator that's definitely more attractive.
If you decide to buy Nanoil, you have to learn your hair porosity type first. Basically, you can have one of the three hair types: low porosity, medium porosity or high porosity. The choice isn't tough especially because each type has its own characteristic features. Moreover, the hair types also differ in the amount of time it needs to get from wet to dry. The most precise way of spotting the differences is looking at hair through the microscope. Anyway, the good news is that you can define your hair porosity even if you don't have access to the high-tech devices.
Choose one of three Nanoil hair oils.
Learn what is hidden in each Nanoil and how it can affect your strands.
NANOIL FOR MEDIUM POROSITY HAIR
What's it made from?
Natural vegetable oils rich in omega-7 and omega-9 unsaturated fatty acids: macadamia oil, argan oil, marula oil, coconut oil, jojoba oil, passion fruit oil
Supplementary substances: silk, UV filter, vitamin E, vitamin A, and other
What's its action?
Despite being hard to define, most women have medium porosity hair type. This is hair which poses a challenge when it comes to choosing right treatment since it causes plenty of problems (mainly at styling) although it's not maximally damaged yet. Nanoil for medium porosity hair makes strands more manageable, limits sebum production at the hair roots and dehydration at the ends. It doesn't only replenish moisture to dry hair areas but also targets the damages that occurred inside the hair and on hair's surface. Moreover, the oil rebuilds surface protection and counteracts further condition deterioration of strands. Thanks to applying Nanoil for medium porosity hair at each washing, you can be sure that the strands will gradually get full of shine, soft and smooth. Also, you will deliver protection to the hair as well as you'll take care of the scalp making it healthy. Nanoil for medium porosity hair will enable you to combat split ends, static, dehydration and brittleness of your hair. This beauty product deals with hair loss and makes hair full of vitality again.
NANOIL FOR HIGH POROSITY HAIR
What's it made from?
Natural vegetable oils rich in omega-3 and omega-6 unsaturated fatty acids: argan oil, avocado oil, cotton seed oil, passion fruit oil, evening primrose oil, almond oil
Supplementary substances: keratin, vitamin E, silk, lanoline, UV filter, panthenol, and other
What's its action?
Certainly, your greatest problem is drastically weakened and damaged hair. Nanoil for high porosity hair is a way for deep regeneration, rebuilding of damaged keratin bonds and strengthening of the inner hair's structures. The persistent problem of dehydrated and dull hair is sorted out thanks to the complex of the natural oils which together work as an emollient. This unique blend seals the external layers of the hair to coat the strands with an invisible layer thanks to which hair is perfectly moistened, doesn't lose water, becomes soft and smooth. Hot oil treatment with Nanoil for high porosity hair enables you to take care of the hair's inner and outer structures. Moreover, the oil counteracts split ends and limits excessive hair loss. This beauty product affects even the condition of the scalp, soothes irritations, eliminates dandruff and regulates functions of sebaceous glands responsible for, among others, greasy head. Thanks to applying Nanoil for high porosity hair, you can forget about all the problems that your hair is affected by since your strands are going to recover soon.
NANOIL FOR LOW POROSITY HAIR
What's it made from?
Natural vegetable oils rich in saturated fatty acids: cedar oil, argan oil, passion fruit oil, monoi oil, cupuaçu butter, shea butter, castor oil, coconut oil
Supplementary substances: vitamin E, vitamin A, panthenol, UV filter, and other
What's its action?
If you have low porosity hair, this means that it requires super strong protection. Nanoil for low porosity hair will shield your strands from the adverse action of the sun and high temperatures. The beauty product will let you enjoy hair that is full of shine and soft even when exposed to the scorching sun. Moreover, it'll ease styling of the hair that is reluctant to give in to a hair curler or hair rollers. Thanks to the regular use, your hair can again be full of volume and shine as you don't have to bother about excessive hair loss nor greasy scalp. Low porosity hair needs a long time to get dry which makes is hard to style. Probably, you're familiar with the problem. Nanoil for low porosity hair accelerates drying time as it conditions the scalp.
CHECK THIS OUT!
Why are Nanoil hair oils recommended for providing the complex hair care? It's simple! Their compositions were developed in such a way to match them with hair porosity types (in other words, to match both hair condition and level of damage). Thanks to this, the oils perfectly fits into the outer and inner structures of the hair, and as a consequence, the products are better at solving the problems that are characterised by a particular hair type. If your hair is damaged, you need oils that are full-bodied since this factor has the direct impact on more effective action the products can deliver. Nanoil knows that hence it offers you oils of precisely targeted action.
Learn the magic of natural oils.
Take care of your hair with Nanoil today!
You won't get back to your ex-favourite hair conditioner.