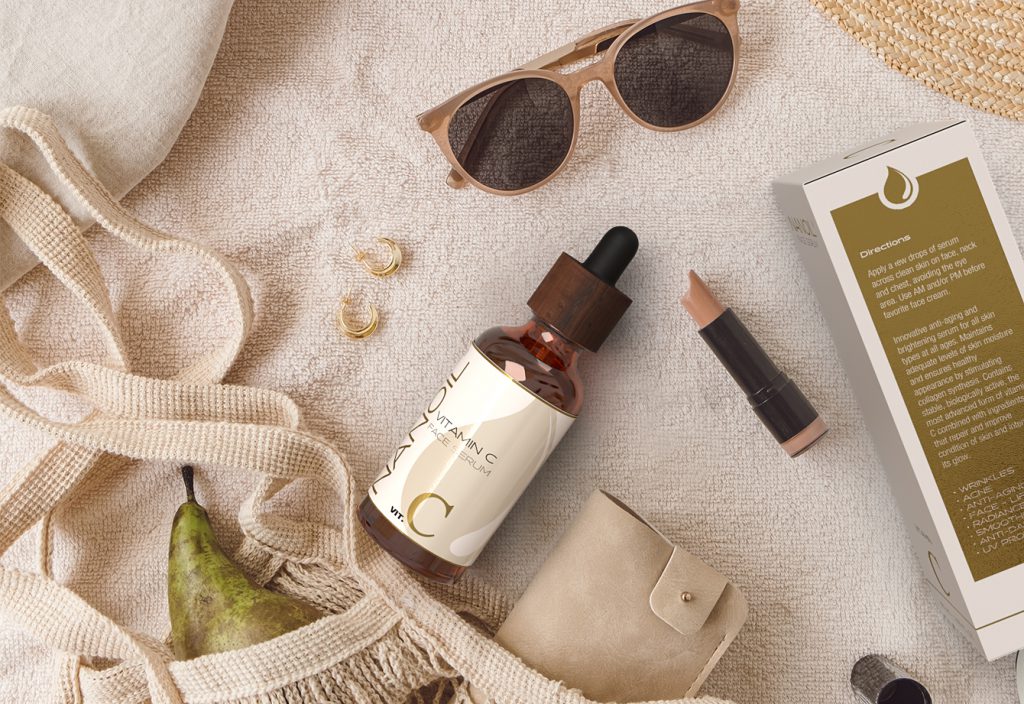 A good face serum is one of the must-haves in my bathroom. I always put my mind to choosing one and analyze the INCI painstakingly. I loved Nanoil Vitamin C Face Serum as soon as I went through the ingredient list. It includes the best type of vitamin C that has ever been created! Does it work well on skin? What effect does it have? Read on please!
Nanoil Vitamin C Face Serum: Design, Size, Price
I bought my vitamin C serum on www.nanoil.co.uk together with a few other amazing cosmetics (you'll find the reviews on my blog). The serum was carefully packed and delivered fast, secured in a very nice cardboard box. I could feel I held a premium product in my hands. The bottle is lovely. The dropper with a wooden end is the most endearing! All elements make up a truly elegant thing.
Nanoil isn't stingy: we get 1.69 ounces of serum in a dark glass bottle (it keeps all properties thanks to that; this type of container is necessary for vitamin C actually). Let me tell you that most facial serums have 1 ounce or less so here we get a much better deal! Nanoil Vitamin C beats many high-end products when it comes to the effects. At the same time I believe nearly everyone can afford it.
Ingredients in Nanoil Vitamin C Face Serum
The formula deserves to be described carefully because it contains the best vitamin C as well as an extract from an Indian plant which has been appreciated for beauty benefits for ages. Nanoil Vitamin C Face Serum deeply conditions the skin thanks to:
VITAMIN C (ETHYL ASCORBIC ACID) – a derivative of pure vitamin C, the best type having the strongest effect on the skin. Ethyl ascorbic acid isn't oxidized because it's stable both in water and oil. This means it enhances the skin perfectly, not breaking down from lipids or sebum. It works wonders: evens out the skin tone, brightens pigmentation marks and smoothes face lines.
PUNARNAVA ROOT EXTRACT – a potent antioxidant whose wonderful properties are appreciated by Ayurveda, that is the traditional Indian medicine. Punarnava has a very beneficial effect on the skin, protecting it from damage, preventing hyperpigmentation and – similarly to vitamin C – improving the skin tone. It abounds in antiaging flavonoids and plant sterols. Isn't it a perfect match for ascorbic acid?
Nanoil Vitamin C Face Serum: first use & first impressions
The dropper houses an optimal amount of serum for one application. The bottle contains a lightweight product which is neither gel-like nor oily (I felt relieved because my skin doesn't like oils much).
My skin absorbs it in a flash. The serum is smooth and easy to use, non-comedogenic, so it doesn't congest my skin. It has never felt greasy or tacky. It never causes make-up pilling either. It is perfect to use under make-up. It doesn't have any distinct smell, which is a good thing because, as you probably know, most strong aromas cause reactions.
When I applied the serum for the first time, my face felt much smoother. It was really cool. The skin got more elastic and nicer to the touch. It didn't improve the skin tone right away, but the face looked rested and radiant instantly. Nanoil Serum makes a perfect morning-routine product, but I also like to use it at bedtime to wake up to a lovely, perfectly-moisturized, fresh face.
Nanoil Vitamin C Face Serum: Effects after a month
Knowing that the serum holds the best type of vitamin C, I wasn't surprised with the wonderful results. Ethyl ascorbic acid is a phenomenon. Even a low concentration of it (found in the Nanoil Serum) has an intensive effect so you don't need 15% vitamin C products that leave you worried about possible adverse reactions and irritations.
Nanoil Vitamin C Face Serum gives amazing results during the first month of treatment, which is really fast because most vitamin C products take time and patience to give satisfactory effects. Thanks to a stable form of ascorbic acid, it works the way a good serum should: it makes my face smoother and nicer, giving a radiant and rested look. On top of that, no other serum managed to remove my sun spots. I had them for years and now they're less noticeable. I love it! I wonder about the effects in a few weeks. I believe they'll keep me stunned!
I can't skip a less-known fact. Vitamin C boosts UV filters, reducing the harmfulness of photoaging and solar radiation. This makes it a great day serum. If you haven't got a favorite serum yet, then Nanoil has a big chance of becoming one. It gets thousands of ravie reviews from people around the world. Give it a try because it's worth it! <3